As discussed under Solutions, the inner transition is an important part of being an effective advocate for meaningful change.  Stuart B. Hill (see Contributors) has spent decades helping people become agents of meaningful  change and offers the following guide (see also Goal 3, Integrating food into educational processes, Redesign and listen to this interview with him.):
Act only from your 'core self'; never from your 'adapted/maladapted, compensatory selves' (see below visual re the differences: 'core self' bottom left).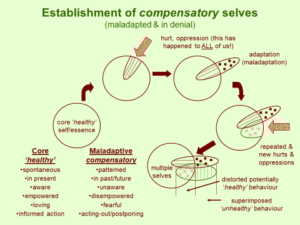 2. Start with a 'small (doable), meaningful initiative that you can guarantee to carry through to completion' – it doesn't matter how small it is (like sharing your ideas with a friend) – this is because follow-up actions naturally flow and build from doable ones – and do what you can to make these initiatives contagious', i.e., be a humble model for others – use conventional and social media, signage, casual and formal meetings, etc. – and produce understandable information sheets (also, short articles, visuals, power points and videos) for wide distribution.
3. Boldly lie about what you have already done (that you have actually not done) [this is best done in pairs, taking turns, and enabled by an experienced facilitator] – to get in touch with what you 'really' want to do – vs. just saying what you would like to do (this ALWAYS gets subconsciously censored by our 'adaptive selves' – see above left visual) – this is why conventional 'visioning' and 'goal-setting' exercises largely fail to enable sustained, meaningful change! [CONTACT ME FOR MORE INFORMATION ON THIS PARADOXICAL APPROACH]
4. Start with what you are most passionate about and what you are most interested in (not what others think you should do, or what 'you think you should do!') – [for ideas, ask me to send you my BioEcolFutures list of things that need to change].
5. Use Kurt Lewin's 'Force Field Analysis' to help you think through how to actually enable change (see Solutions for a discussion)
6. Pause (to be open and reflect) – vs. having quick (patterned) responses to new ideas – and be a life-long learner, questioner and researcher – great 'change agents' are always carrying our 'small, meaningful experiments'– AND record what you do and all the outcomes (short- to long-term, and near to distant) - a pencil and paper may be the most powerful tool that you have to help you!
7. Adopt a person with 'positional power' – politician, school principal, business leader, etc. – and support them in their development, understanding and change – ask them 'strategic (open) questions' (not 'closed' questions that can be answered by 'yes' or 'no') – 'active listen' to the answers, vs. telling others what to do (see publications on 'strategic questioning' by Fran Peavey).
8. Work to overcome the many internal and external 'barriers to change' – see below list re: foundational factors.
________________
Underlying Barriers to Change (personal & cultural priorities for attention before any other initiatives can be sustainably addressed).
Feeling disempowered (within disempowering environments) vs. EMPOWERED & SUPPORTED
Unaware & distracted AWARE & IN THE PRESENT
Confused/compromised values & visions CLEAR VALUES & VISIONS
Postponed & token, also over-reactive & de-contextual, actions INFORMED, CONTEXTUAL APPROPRIATE (especially proactive) ACTIONS